Dog Tag Machine Repair
Norcom 1700 Equipment Repair ! Norcom 1700 Rebuild
Addressing Machines has in stock all parts for the Addressograph Dog Tag Machines. Due to the size of this equipment, it is most often necessary for our service technicians to travel to your location for repair. Call or e-mail us for an approximate cost .
The smaller DT-350 can be shipped to our location for repair. It must be crated and insured, just in case UPS gives it the 2 story drop test. Please call us for shipping instructions before you ship this unit in for repair.
e-mail: mberry@addressingmachines.com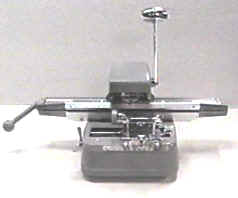 Home
Call Toll Free: 1-800-428-4595
We Support Sgt Joseph Proctor Park Project

Site Maintained by the mark@berrys.net

Copyright © 1998-2013 by Addressing Machines & Supply Co. Inc.